Pizza/Italian Food
Stoughton keeps adding and changing pizzeria's faster than I can keep up with. I'll try to add as many of the new one's as I can, but I haven't tried some of them yet. If I missed your favorite, send me the info and I'll put it up.
Central Street Pizzeria & Grille
37 Dykeman Way
Stoughton, MA 02072
Phone: (781) 344-3199
Central Street Pizzeria and Grille has taken over as the best Italian Pizza in Stoughton since the demise of Sal and Katie's a few years ago. This has become the pizzeria of choice for both carry-in and eat out in our house. It continues to get better over time. It is a thin, but not too thin crust. It seems that they have increased the size of their pizza which had been my only complaint. We have tried several of the wraps as well and everything we've had here has been good. This place has continued to survive in a tough pizza market. If you like Italian Pizza, you should support this place to keep it in business. Stoughton needs a good Italian pizza in town. They get extra points for good customer service. The staff have always been very friendly. Click on their name above for their website.
Click image to see a larger picture.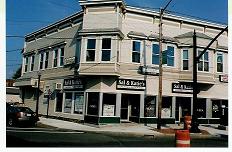 752 Washington St.
Stoughton, MA 02072
Phone: (781) 344-3366
Olivio's serves Italian Pizza, but they have some combinations of ingredients offered that leans toward a Brazilian flavor. I've only had the pizza there a couple of times. I had the cheese pizza. Everything tasted good on the first trip. The crust was very thin. A little thinner than I like it. I visited this place again and was very disappointed in the pizza. It seemed like they changed the recipe for the crust and it was very flat. I wouldn't consider this Italian pizza. They also advertise many flavors of boneless wings. I haven't tried these yet.

Sal and Katie's -R.I.P. The best pizza Stoughton ever had is out of business. It has been replace by Olivio's

M & G's Pizza (replaced Main Street Pizza)
713 Washington St # C
Stoughton, MA 02072-4225
(781) 344-5544
I've only had the pizza here a couple of times. It was Italian style although it didn't have the bouncy crust around the edge that I prefer. They also have a very flat crust. The second time I went here, the pizza was under cooked. The staff were very friendly. I hope they have better luck than the previous place.

Best Upscale Restaurants in Stoughton
Lastoria Italian Bar & Grill
577 Washington Street
Stoughton, MA 02072
Phone: (781) 341-8900
This is no longer the only upscale restaurant in Stoughton (see Amelia's below), but I was very impressed with the food here with one minor exception. First of all they have some great focaccia bread that is served with the meal. According to the waitress they bake all of their own bread on the premises. The focaccia bread was outstanding. The other bread served was also good. It is served with a hummus for dipping. I'm usually not a big fan of hummus. I'll ask for some olive oil or butter for the bread, but this stuff was really good and it was served warm. I ordered the Ceasar salad and the Aragosta Ravioli "Fruitti di Mare" which is Lobster Ravioli, Mussels, Sea Scallops and Shrimp, in a Mushroom-Saffron Cream sauce. My wife ordered a pasta dish that I can't remember the name of. It was long tubes of pasta with spinach and prosciutto in a lemon cream sauce. First off, the waitress asked if I wanted anchoives on my Ceasar salad (1 point for the waitress) which of course I did! My dish was really good, the scallops were cooked perfectly, there were plenty of mussels, and the lobster raviolis were really tasty. The sauce was also excellent. My one disappointment was the shrimp which were a little chewy. I like mine with a crisp bite. Altogether it was a very good meal. My wife also enjoyed her meal which I tasted too. The prosciutto was particularily good. They have a very wide menu for such a small place. They have more choices than what is listed on their web site. Although I didn't sample the wine list or the desserts this time, it does appear that they have a full bar. This is a place I will definitely be back to. It was nice to find a restaurant this good right here in Stoughton!

Amelia's
217 Washington Street
Stoughton, MA 02072
Phone: (781) 886–6125
Amelia's is one of the newer restaurants in town. It is in the building where X and O's was and Albert's before that. Amelia's advertises as a Northern Italian Restaurant. It has seemed very busy on the evenings I have driven past there and it was quite busy on our first visit. We made a reservation through "Open Table." We were there early because we were going in to Boston to see a play and the place was already humming. The hostess and wait staff were all very nice. There were several staff members we knew from the high school and town sports. My wife and I split a Mista salad that included mesculin greens, goat cheese, and tomoatoes - we had them hold the onions. This salad was definitely big enough for splitting. It would have been a lot of salad for just one of us. It all tasted very fresh. They also brought some warm bread to the table with olive oil and a cheese spread that included fetta cheese. The cheese spread was unusual, but very good. We had the waiter bring us some more bread during our meal. I also ordered a glass of the house Pinot Grigio, which was very good. They seemed to have a nice wine list.

For dinner, I ordered the Spaghetti, which was lobster, shrimp, and mussels in a thick spicy red sauce. I thought the portion looked a little small, but I was definitely full when we left the restaurant. My wife ordered the Seared Sea Scallops with corn risotto and green bean salad. The scallops were perfectly done. The corn risotto was a little adventurous for my wife, but had an interesting taste. She did enjoy the green bean salad. They do have a rather small menu, but they seem to do an excellent job of preparing the meals. This is definitely a place we will be back to.


Bertucci's at Cobb Corner
95 Washington Street
Village Mall, Canton, MA 02021
Phone: (78) 828-9901
Yeah, I know it's a chain and I'd never go there for the pizza (at least the pizza is sort of Italian), but the food has always been good and it's a very family friendly place. I've had a number of different dishes and I've like all of them. Their calzones are huge and the hot dinner rolls they serve are excellent. I've never left here still hungry. There is always something the kids will eat and the staff tolerate the mess.

Town Spa
1119 Washington St.
Stoughton, MA 02072
Phone: (781) 344-2030.
I have a strong bias for Italian style pizza. When I moved to Stoughton 10 years ago, I was told that this When I first moved to Stoughton about 10 years ago, I was told that this was the place to go for pizza. I have a strong bias for Italian (New York) style pizza. I was disappointed with my first visit, I really didn't like the pizza at all. It is not Italian Pizza. It's more like the Greek style pizza served at all of the Houses of Pizza. I guess it is what they call "Pub or Bar Pizza." I returned a while ago to spend a gift certificate I'd been given and I have raised my opinion a bit. I ordered the rotisserie chicken special. This was actually pretty tasty, although they brought me french fries instead of the mashed potatoes that are on the menu. The fries were good and my kids liked the fried cheese stixs and they liked the pizza. The place was full of kids, the prices are reasonable, and they do have a full bar with a big screen TV. Go early, it gets very crowded on the weekends. Now that my kids are in high school this has become the go to place after a sporting or musical event for them and their friends. They also allow the students to fundraise on their premises, so they deserve credit for supporting the town. They also always sponor sports teams for town sports.

Olive Garden
401 Technology Center Dr.
Stoughton, MA 02072
Phone: (781) 297-5110
I still haven't been to the one in Stoughton, but I have to say that I've changed my opinion of Olive Garden. I've eaten lunch at a couple of different ones and had pretty good meals. I think they are reasonably priced and you get plenty to eat. Maybe this place deserves a shot.

Papa Gino's -- Two Stoughton locations.
115 Sharon St. Cobb's Corner
Stoughton, MA 02072
Phone: 781-344-8284
and
319 Washington St.
Stoughton, MA 02072-1737
Phone: 781-344-1764.
Italian Chain Pizza. I had some of their pizza at a kids party and it wasn't half bad for chain store pizza. At least it is Italian style and it's a good place for kids.

Papa John's
525 Washington St.
Stoughton, MA 02072
Phone: (781) 297-7272
Midwestern Italian Chain Pizza. Passable pizza. I've only gotten pizza from the Stoughton store once, but it tastes just like every other Papa John's pizza I've ever had. My daughter likes the garlic butter.

Chuck and Cheese House of Pizza
516 Washington St.
Stoughton, MA 02072
Phone:(781) 344-1919
Greek Pizza - haven't had it. Both my kids like their pizza.

Lucky Pizza
356 Washington St.
Stoughton, MA 02072
Phone: (781) 341-8833
Greek Pizza - okay if you like that kind of pizza - I don't! I've only been there once.

Old Country Pizzeria
672 Washington St.
Stoughton, MA 02072
Phone: (781) 341-4339
Greek Pizza - haven't had it. Did have a decent Eggplant Parm sandwich there.

Denneno's Pizza & Subs
545 Pearl St.
Stoughton, MA 02072
Phone: (781) 344-9803
Very average sort of Italian Pizza. I've only been there once, not much else to say. It gets surprisingly high ratings in local newspapers and I know several Stoughton residents who are big fans. My son likes their pizza. Should probably give it a second look.

Stoughton Pizza
875 Washington Street
Stoughton, MA 02072
Phone: (781) 344-7172
I haven't been here yet. I'm guessing it's Greek Pizza.

Stoughton's Best Pizza and Seafood
839 Park St.
Stoughton, MA 02072
Phone: (781) 341-0900
Greek Pizza - Haven't had it.

Stelio's Pizza House
1819 Central Street
Stoughton, MA 02072-1436
(781) 297-0949
I've only had it once, but it isn't bad for Greek Pizza. My kids liked it too. I think they've changed their name.

Piezoni's Pizza
839 Park Street
Stoughton, MA 02072
(781) 344-3999
They describe it as "bar pies." It looks like Greek Pizza in the pictures. Have had it a couple of times at after sporting events.

Cobb's Corner Pizza
8 Washington St.
Canton, MA
Phone: (781) 575-0929
Haven't had it.

Piazza Pizzaria
752 Washington Street
Stoughton, MA 02072
Phone: (781) 341-5835
Didn't even know this place existed. Will have to check it out, at least to see what kind of pizza they serve. My guess is Greek style.

Chateau (Formerly Nocera's Italian Restaurant)
1165 Park Street, Route 27
Stoughton, MA 02072
Phone: (781) 341-2503
Fax: (781) 341-2550.
This is a very average Italian family style restaurant. Reasonably priced, but don't expect anything fancy. I haven't had their pizza. They changed their name, but it seemed exactly the same including the menu.